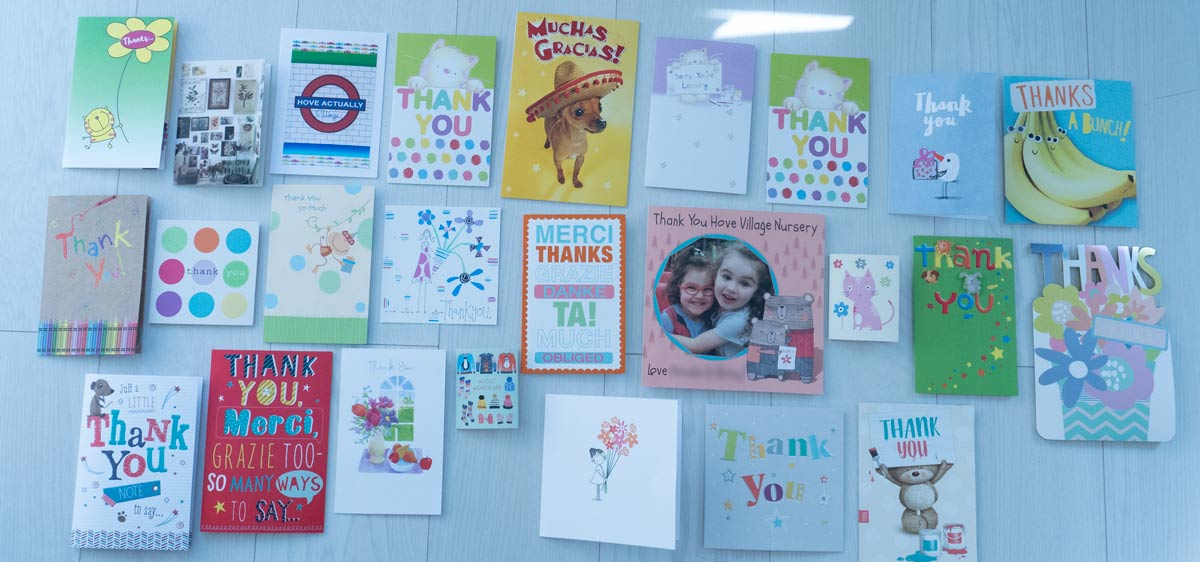 The majority of children that join Hove Village do so as a result of a recommendation from another family. We have consistently received positive feedback from our parents and we are proud of this seal of approval. Read on below to see just a small selection of our reviews and testimonials.
"My daughter has been attending Hove Village at the library for just over 6 months. We are thrilled with the progress she is making and feel her confidence has grown.
Each week we feel she is gaining more confidence thanks to the support she receives from the staff. The range of activities is fantastic, my daughter particularly enjoys partaking in sports and I'm very satisfied that she is getting plenty of lovely fresh air from the walks they take down to the beach.
The setting is a very nurturing environment and our daughter feels safe and looks forward to going in. The staff are very helpful and friendly and provide excellent care. It's reassuring to know our daughter is in great hands."
Hayley and Tim
"Hove Village has been a great experience for our little girl and we feel she has really developed well since starting there. We know she loves the dance classes and baby yoga and really enjoys the food which is prepared by the chef. Toilet training was a breeze and we loved the fact that it provided nappies when she was small. Hove Village has made life a lot easier for us"
Jon and Corrine
"The great thing about Hove Village is that everything they say about themselves is not marketing, it is their actual culture and values. They truly do offer a child-led environment with daily updates and child assessments provided to show what they are working on with your child and how it impacts them. They plant, bake bread, make playdough, make slime and get so messy and creative with the children, who choose these activities themselves making them more confident and creative. I absolutely love the way this school is structured, and I can see all of the effort reflected in my child's abilities, confidence and his constant smiles and laughter. Everything at Hove Village Nursery is an adventure and my child is so excited for every day. It is amazing to have teachers and caregivers that are as fully invested in your child's development, happiness and wellbeing as you are with careful thought and consideration given to the future impact of every activity and task on your child as a little human growing in this big world. They go above and beyond, and we are super grateful that our child is part of this family."
Yolandi
"We are really really happy with Hove village nursery, all the staff have been really sensitive, communicative and flexible in settling our three year old. It feels a genuinely nurturing and creative environment with an incredibly diverse and considered range of activities every day. Thanks to everyone there"
Rebecca
"My 19 months old daughter and wife love the place - It's new and fresh and the staff are amazing. We are impressed and highly recommend it."
Sam
"I cannot fault the care and attention they give my Grandson and the kindness they have shown me as a Grandma, making me feel most welcome and included in his development, long may they continue the sterling work they do."
Sylvia
"I would highly recommended this nursery. They have so much to offer the children. They are very interested in the development of the children. They offer a website which you can see what your child has done for the day which I find fantastic as you like to see how your child is progressing. By sending your child to this nursery I feel you are giving your child a head start before they start school"
Angela
"I cannot fault the care and attention they give my Grandson and the kindness they have shown me as a Grandma, making me feel most welcome and included in his development, long may they continue the sterling work they do."
Sylvia
"Our son has been at Hove Village Day Nursery for almost 1 year, since he was 1 year old. We have found the staff are highly qualified, kind, caring, friendly and professional. When our son was settling, they met his every needs. The environment is clean and stimulating. We receive daily feedback with lots of photos of him learning, having lots of fun and developing. Our son loves Hove Village, the rooms, activities and staff and healthy, yummy and fresh food!!! We would highly recommend this nursery"
Zuzana
"Really happy with this nursery, my daughter loves it and learns a lot in there every day. I love that they have separate room for sleeping (no issues with day time naps and is always well rested) and also many other rooms or even classes they can go to during the day. All staff are very friendly and approachable. Would definitely recommend it!"
Ludmila
"My son really enjoys his two mornings at Hove Village Nursery. The staff are really friendly and professional. I always get in-depth feedback on his day when I come to collect him which is reassuring. As a nursery teacher (myself), I can see the nursery provides a high quality, stimulating environment with a good range of learning opportunities. They encourage independence through all the activities such as meal times. My son has really blossomed socially since starting here and I enjoy coming for a chat and a cup of coffee in the café! All in all, I am very happy with Hove Village Nursery, and he certainly is!"
Alyson (A mum and also a Nursery Teacher herself!)
"As a parent working full-time, it was important for me to find a nursery that cared about my daughter's development as much as I did. My partner made me aware of the new and varied facilities at Hove Village, long before we had to choose a nursery, as she used to take our little one to their amazing activity classes and soft play area several times a week.
So for me it was a question of if the awesome facilities are matched by equally fantastic nursery staff. After meeting all who worked there, from the owner to the teachers they certainly exceeded my expectations! Hove Village Nursery comes highly recommended to any parent looking for a fresh, clean and safe environment for their child. -  a very satisfied dad..."
Jason
"We are very happy how things are going for my daughter and I can't emphasise enough how grateful I am to Maria, Dora and Amanda for the amazing work they are doing and the way they have helped my daughter settle in so quickly, which means I can go back to work with peace of mind next week. I find Hove Village Nursery a kind, caring and stimulating environment for my daughter to enjoy. The professional attitude of the staff and the friendly atmosphere of the place leaves me confident that my precious little one is safe and well looked after while she is there. I am also thoroughly impressed with the quantity and variety of planned activities that the group does on a daily basis and the involvement of the nursery teachers in my child's development is faultless so far. I really can't emphasise enough how great the staff are. They really do love the kids, which is why my daughter genuinely loves going there every day… and if she is happy then I am happy too. As an organisation and as individuals, they ALL stretch to beyond anything I could have expected or even hoped for from a nursery. My lovely child thrives in their care, we have definitely made the right choice and I am very excited to continue being part of the Hove Village family. Thank you everyone!"
Kata
"Hove Village nursery gave my son a fantastic head start before starting school. They are attentive to my sons needs. He learnt so much whilst attending the nursery. They offer a wide variety of educational resources and you have an app you can access and see what your child is learning and their progress on that day. You can continually access it and it is recorded, so those early years are captured to look back on as memories. The staff are so caring and hardworking. It clearly shows they take great pride in what they do. I could not have sent my son to a better nursery and it was the best decision I ever made."
Angeline
"Our child has been attending Hove Village Nursery since her 1st birthday, however we did attend several of the groups provided by the Nursery previously which gave us high expectations of the service and the staff.
I'm pleased to say we have not been disappointed with the results we've seen. From the warm up sessions up until spending the whole day the staff have all been fantastic at caring, supporting and providing for any of our child's needs. From the professionally run dealings with the admin staff to the small details and preferences we have regarding our little ones care that the Nursery Nurses provide, we have been impressed with every step of the journey.
e have also seen our child develop the way they play and handle social situations in a positive way since they started attending and I definitely feel this is as a result of the whole Nursery experience.
I couldn't recommend the service more and we are very pleased we made the decision to send our little one to Hove Village..."
Chris
"Our son seems to adore his time there and your staff are very friendly"
Damien
"Your staff are fab, they made a real connection with my son which as working parents we can only wish for. The app has also been brilliant! Such a great investment from our point of view."
Charlie
This nursery is wonderful! Nikki and her team [at Hove Library] fill my child's days with fun and closely monitor her development encouraging her to grow at her own speed. The setting is beautiful and very clean, organised and well managed. The team went above and beyond to make sure my daughter was settled in and now she practically runs in the door! I cannot recommend enough!
Parent
"My son has been going to Hove Village since the start of this year and he has settled in so quickly – the staff has been extremely helpful and thoughtful in helping him through changing nurseries. Now, when I drop him off, he runs off to greet the staff and at the end of the day he doesn't want to leave!
I couldn't recommend Hove Village more highly. The staff are amazing, each one of them is so caring, helpful and passionate about what they do. The nursery has a fantastic balance between routine and a variety of really fun and educational activities.
What matters to me too, is that the management is very involved with the kids and parents. The setting and building are a great plus too; moving from a small nursery to Hove Village, I can see how my son just loves running around and having space and several rooms to enjoy. My partner and I are both extremely pleased with Hove Village, and I know it's a second home to our son..."
Vemy
"We have been very pleased with the overall care and education. The staff are all lovely, patient and very energetic with great enthusiasm for the children. Our child has always been very happy there and enjoyed all the activities, outings and facilities. Thank you!"
Adam